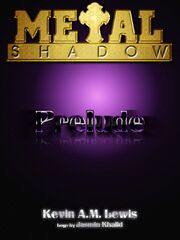 Metal Shadow Prelude
, or simply,
the Prelude
, is a serialized
high fantasy
/
sci-fi
novel written by Kevin A.M. Lewis. It is the prequel to
Metal Shadow
. It went live on
JukePop Serials
on September 1, 2012. It concluded
serialization
on August 13, 2013. In June, July, and August 2013, it was ranked on the JP Top 30 serials based on reader +Votes, and had a rating of 5 out of 5 stars based on 4 chapter reviews.
The Winter Queen has gone missing, and everyone's out to get her—including the Agency, a collection of the finest warriors in the realm. When Vantrekke Yuba is offered the whereabouts of his missing wife in exchange for Noa's capture, he gladly joins the hunt.
But the Clandestined are also after the Queen, and assassins are shadowing Van. What lies ahead for this broken warrior may be anything but a reunion.
Paint your oath and step into the Cloud Wall. This legend isn't made; it is reborn.
Cast of Characters
Edit
Original list of chapters
Edit
Chapter 1: The Moon-Child's War
Chapter 2: Catharsis
Chapter 3: Directive
Chapter 4: Escort
Chapter 5: A Rough Landing
Chapter 6: Close Range
Chapter 7: Blazing Emblems
Chapter 8: Aboard the Flying Elf
Chapter 9: Cargo
Chapter 10: Crash and Freeze
Chapter 11: The First to Arrive
Chapter 12: Limit Break (Part 1)
Chapter 13: Limit Break (Part 2)
Chapter 14: Memory of Gineden
Chapter 15: Old Talk
Chapter 16: The Most Persistent Hunters
Chapter 17: Regrouping
Chapter 18: Beastie
Chapter 19: Maw of the Dragon
Chapter 20: Damsels In Distress
Chapter 21: Departure Time
Chapter 22: The Underriver
Chapter 23: Familiar Scenes
Chapter 24: Another Lesson Learned
Chapter 25: Battle At the Wellweaver Chamber
Chapter 26: Shortcuts
Chapter 27: Reception
Chapter 28: Safe and Sound
Chapter 29: Vignette Feed
Chapter 30: A Convergence of Forces
Chapter 31: Tug of War
Chapter 32: The Unlikely Guardian (Part 1)
Chapter 33: The Unlikely Guardian (Part 2)
Chapter 34: Orders from Base
Chapter 35: Within Vault
Chapter 36: The Enigma's Wish
Chapter 37: Nightmare Tower
Chapter 38: The Question of Loyalties
Chapter 39: Of Rebels and Rulers
Chapter 40: Allied
Chapter 41: Plans for an Infiltration
Chapter 42: En Route to the Agency
Chapter 43: The Prodigy's Son
Chapter 44: Metal Shadow Prelude
Chapter 45: Countdown (Part 1)
Chapter 46: Countdown (Part 2)
Chapter 47: Soldiers of Tragedy
Chapter 48: Ex-King
Chapter 49: Impetus
Chapter 50: Ten Corpses
Chapter 51: Oathkeepers
Chapter 52: Eyes Like Suns
Ad blocker interference detected!
Wikia is a free-to-use site that makes money from advertising. We have a modified experience for viewers using ad blockers

Wikia is not accessible if you've made further modifications. Remove the custom ad blocker rule(s) and the page will load as expected.